It is essential that your company finds ways to streamline its processes in order to keep up with competition and maintain profitability. One way to achieve this is by incorporating ID card solutions into your business. ID card solutions like ID card printers and software can help you keep track of employee information, manage access control, and improve security.
At Mewtech, we offer a wide range of ID card printers from leading manufacturers, such as Zebra, Evolis that are designed to meet the needs of any organization. Our printers are easy to use, cost-effective and come in different models to suit your specific needs. Whether you need basic, advanced or professional features, we have a solution for you.
Furthermore, we also offer high-quality ID card materials such as blank PVC cards, pre-printed cards and lamination films that can be used to create durable and long-lasting ID cards.
Our ID card solutions are not limited to just one industry and find application in various fields such as Education, Healthcare, Government, Retail and Banking sector. Contact us today to learn more about how our ID card solutions can help your business become more efficient and secure.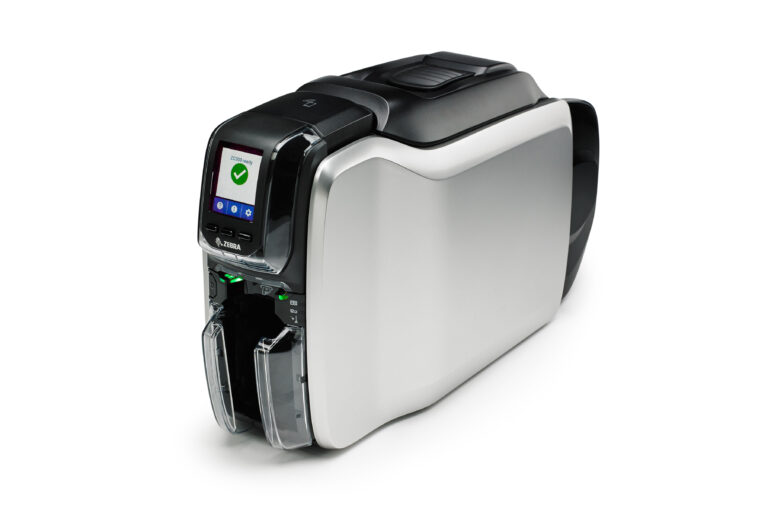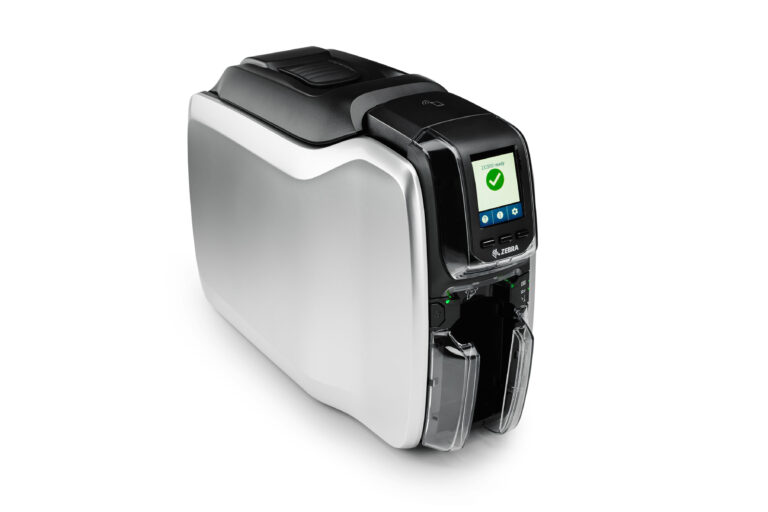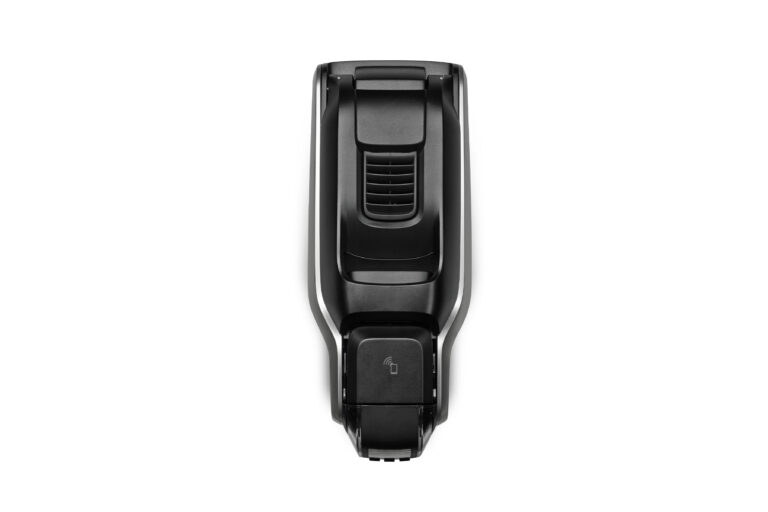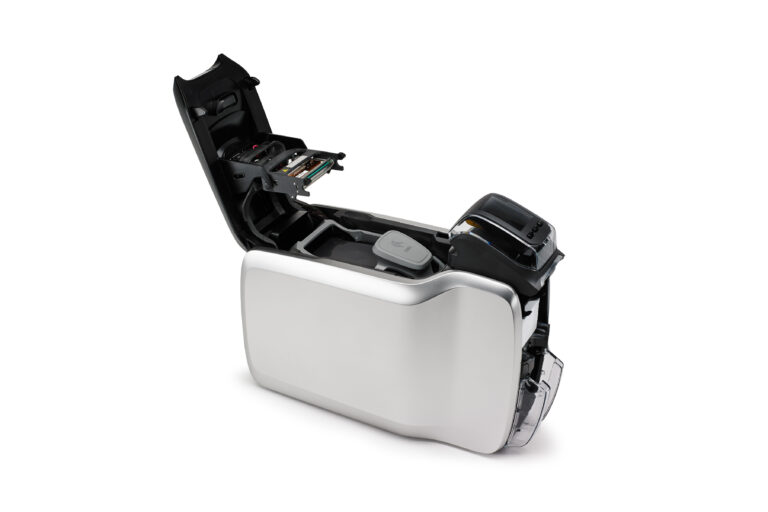 ID CARD PRINTERS
ZC300 Series Card Printer
MODELS
ZC300, ZC350
Benefits of the ZC300 Series
Groundbreaking Simplicity
With plug-and-play deployment, instant card feeder adjustment, intuitive icons and a graphical user interface, the ZC300 Series is easy to integrate, use and manage. Ribbon changing is virtually fool-proof, and a revolutionary hopper design makes loading and unloading cards easier than ever.
Boundless Card Design Options
The ZC300 Series is loaded with advanced card production features. Print what you want, when you want, from just about anywhere – single or dual-sided edge-to-edge monochrome and color cards, with new ribbons that offer specialty colors and special effects.
Fits Everywhere Design
Even though the ZC300 Series is built for business, it has the consumer good looks required to fit in customer facing areas–from the corporate office to the university to the retail store. And the printer cover lock provides security by preventing theft of card stock and rejected cards.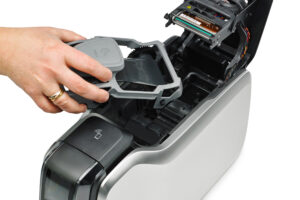 THE SIMPLEST CARD PRINTER ON THE PLANET
Highly graphical LED/LCD interface
The ZC300 offers highly-intuitive well-tested icons, animations and text-based messages in your own language, allowing any user to easily understand what the printer needs and how to perform virtually any function — including how to clear a printer jam, fix a ribbon, load a ribbon or cards and more.
Painless plug-and-play deployment
The ZC300 is designed to work right out of the box. There's no time-consuming complicated set-up — just plug it in and start reaping the benefits the day your printer arrives.
Primacy 2 card printer
A high-performance card printer, to create your own cards with an appropriate level of security.
Encoding
Magnetic stripes
No encoding option
Smart contact
Smart contactless
Card lifespan
Up to 3 years
Up to 5 years
Number of cards per year
Between 5 000 and 50 000
Between 500 and 5 000
Less than 500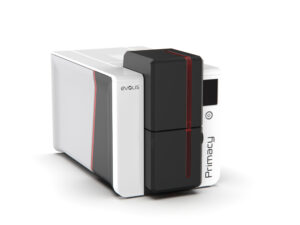 Primacy 2 card printer
Direct-to-card dye-sublimation/Resin thermal transfer/ Rewrite
Edge-to-edge printing, single or dual-sided
Customizable 300 x 600 dpi resolution (color and monochrome printing) or 300 x 1200 dpi resolution (monochrome printing only)
Interfaces: USB, Ethernet, Wifi (optional)
Feeder capacity: 200 cards (optional), Feeder capacity: 100 cards
Printing performances
Single side: 280 cards/hour
Dual side: 170 cards/hour
Dual-sided Card Lamination Module (CLM) as an option
3-year warranty
Delivered with cardPresso XXS for designing and editing badges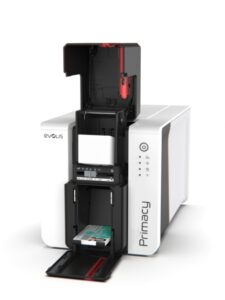 GENERAL FEATURES
∙ Color sublimation directly on the card and resin thermal
transfer
∙ Rewritable card printing
∙ Single or double-sided print module
∙ Print resolution:
- In color and monochrome: 300x300 dpi & 300x600 dpi
- In monochrome: 300x1200 dpi
∙ Print optimization via color profile
∙ User interface: LED panel or LCD touch screen
PRINT SPEED
∙ Single-sided (YMCKO): up to 280 cards/hour
∙ Double-sided (YMCKOK): 170 cards/hour
∙ Single-sided (YMCK) with lamination module: up to 215
cards/hour

CARD MANAGEMENT AND SPECIFICATIONS
∙ Feeder capacity: 100 cards (0.76 mm – 30 mil)
∙ Hopper capacity: 100 cards (0.76 mm – 30 mil)
∙ Rear hopper capacity: 50 cards (0.76 mm – 30 mil)2
∙ Card types: PVC cards, composite PVC cards, PET cards, ABS
cards, and rewritable card
PORTS/CONNECTIVITY
∙ USB (cable supplied) and Ethernet
∙ Wireless connection 802.11b/g on Wireless range